Welcome to the site that helps you get the most out of your Pathfinder Character Builds.  Please note that this site is being re-organized for the reader's convenience over the next couple of weeks.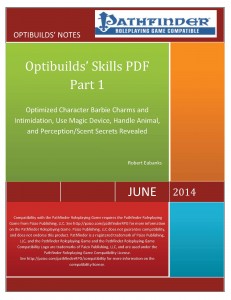 Also, please note that the long promised and for some awaited Skills PDF Part I is finally here; skill optimization is more than finding traps and such – done right, it makes you an unbeatable warrior as well.  While the free character builds listed below will always remain on this site, the trend in the immediate future will be towards more of the PDFs being added to the site.  The focus of these PDFs will be on making and explaining how to make characters that are not just optimized on the battlefield, but optimized in all facets of the game.
Free Optimized Character Categories:  The characters below are free archer, melee, magic user builds that have been placed and have remained on this site for as long as two years.  I have organized them in these categories based on the main function of the characters.  That said, many of the characters are multi-purposed.  If they have two main functions, they are listed in more than one list.
Meleers: 1) Paladin Protector; 2) Two-Weapon Shield/Spikes; 3) Scimitar and Blaster Bard; 4) Ninja Dirty Fighting; 5) Mounted Cleric; 6) Barbarian AC Tank; 7) Barbarian Switch Hitter; 8) Oracle Switch Hitter; 9) Shadow Striker Barbarian
Archers: 1) Monk Zen Archer; 2) Mounted Inquisitor Archer; 3) Arcane / Eldritch Knight Archer; 4) Bard Archer; 5) Paladin Archer; 6) Barbarian Switch Hitter; 7) Rogue Archer; 8) Ranger Archer; 9) Ninja Archer; 10) Fighter Archer; 11) Oracle Switch Hitter 12) Shadow Striker Barbarian
Magicians: Wizard Spellslinger
Guides: 1) Witch Spell Guide; 2) Barbarian Guide
Gamemaster Articles: 1) Art of the Chase I, 2) Art of the Chase II, 3) Game Mastering w/out Being a Game Master